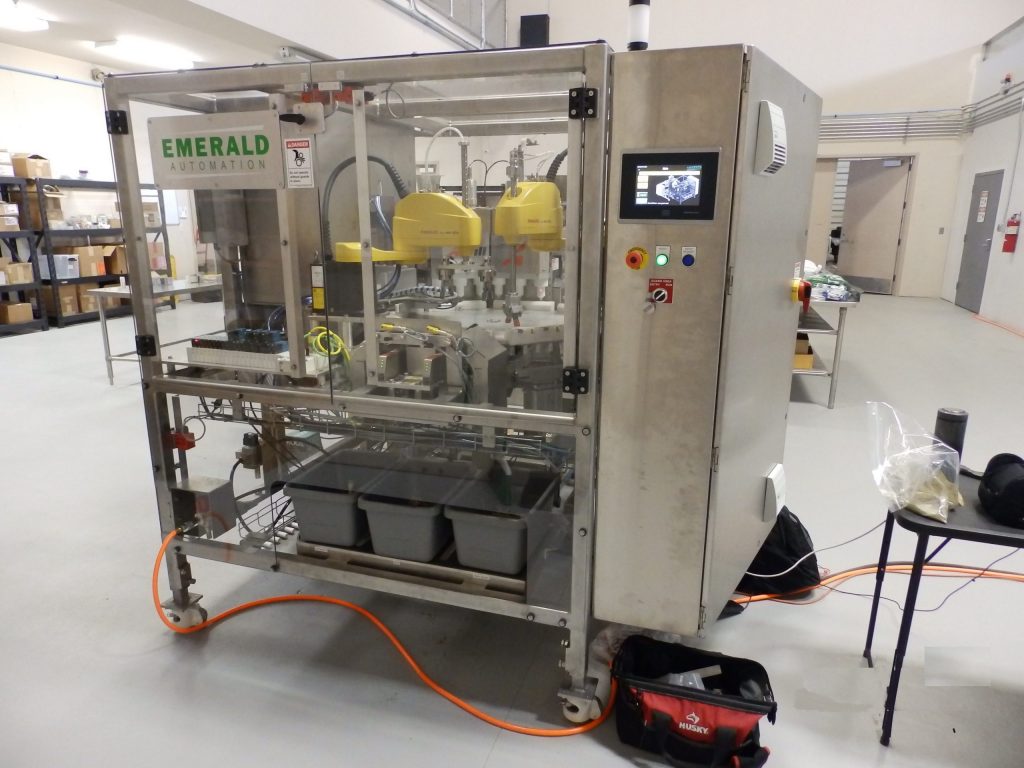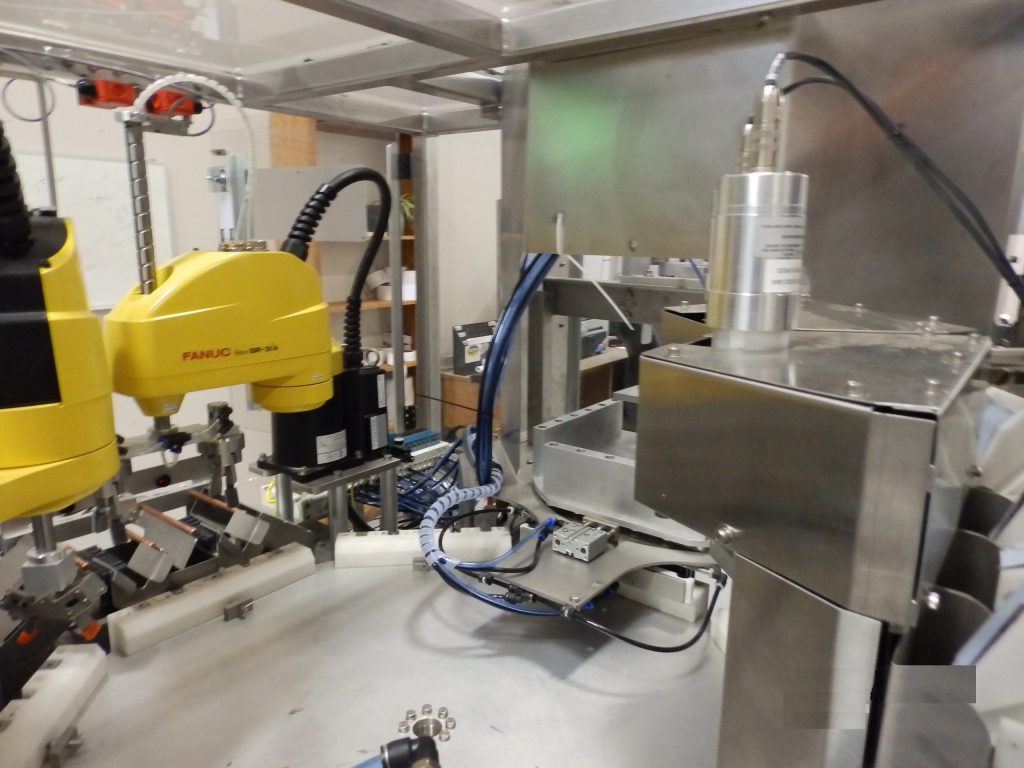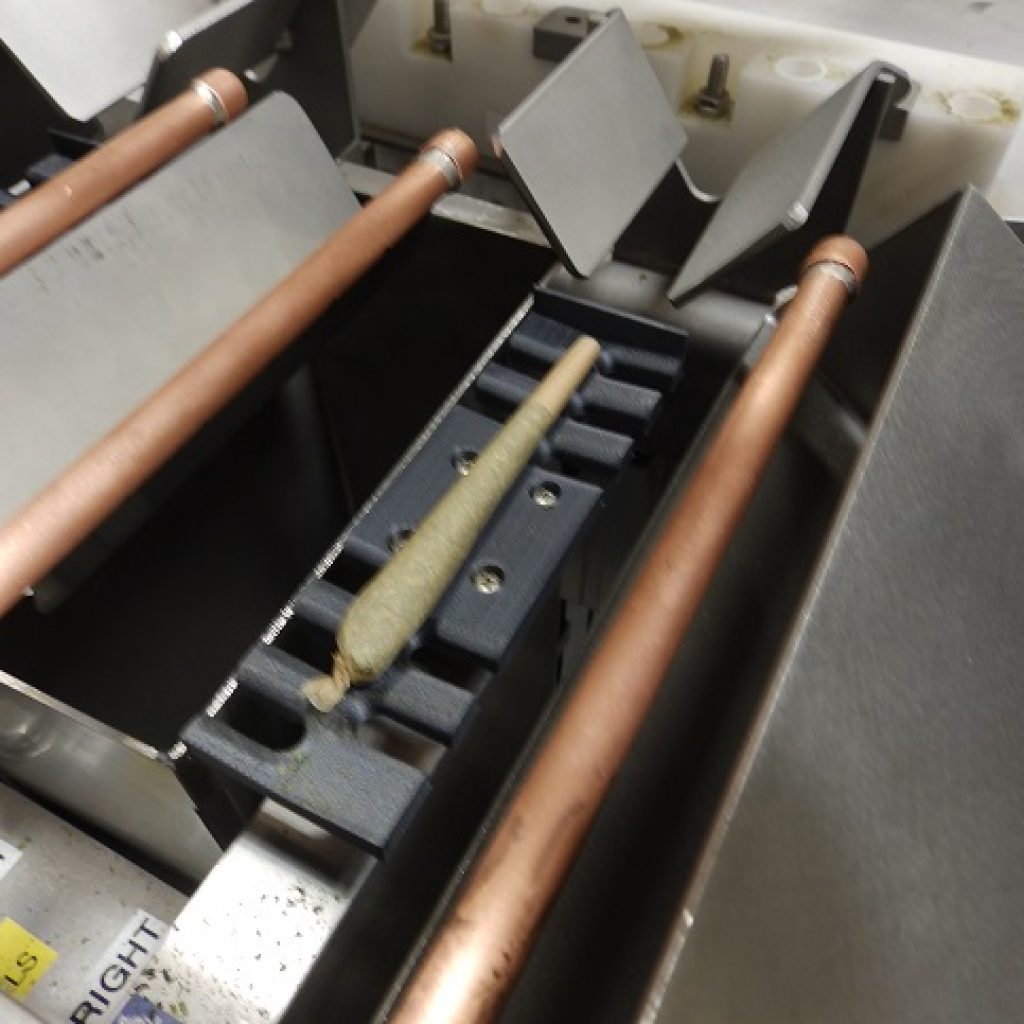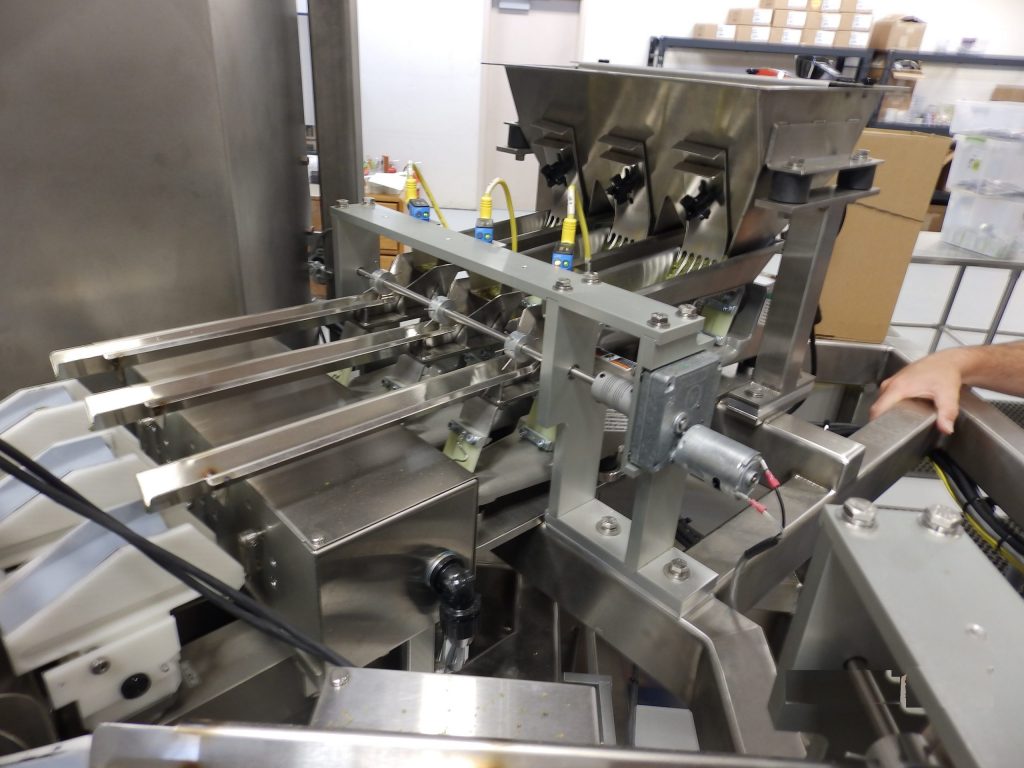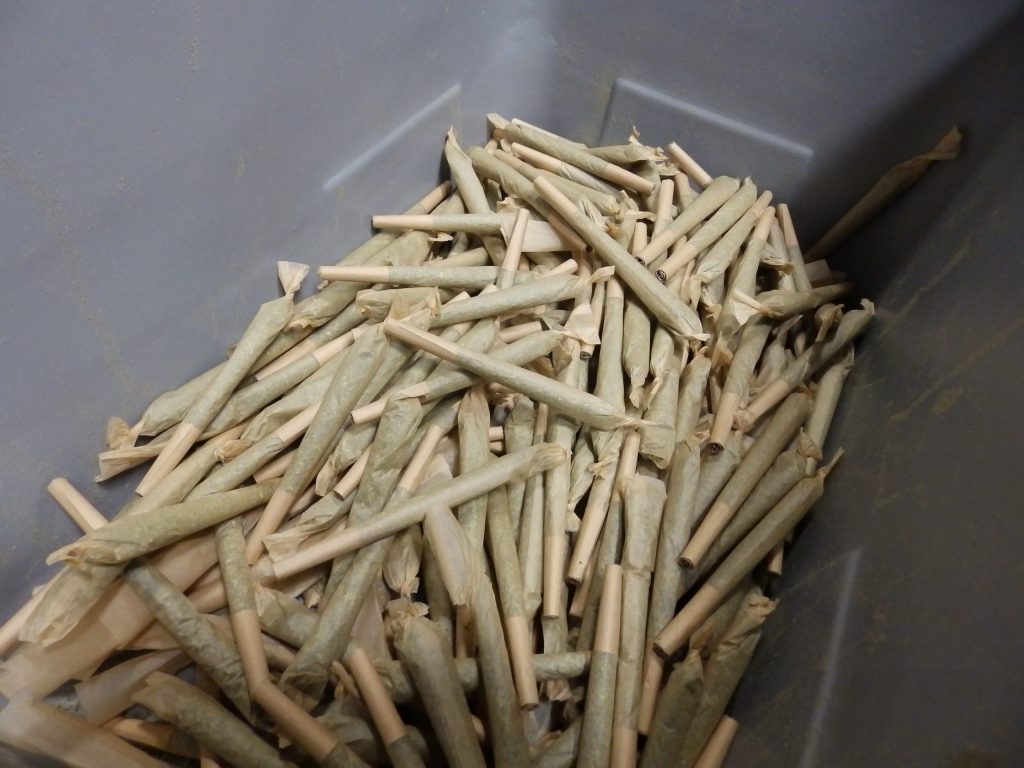 Cannabis Automated Pre-Roll System
MD Packaging partnered with Emerald Automation to create a high-speed Pre-Roll filling, twisting and weight validation system for the Cannabis industry. The system consists of a pre-roll cone delivery system to place empty cones into six single cone holders that are on an eight station rotary table. The servo-driven table indexes the cones under a precision linear scale that accurately creates a single charge in desired weights: 0.5g, 0.7g and 1.0g fills.
The system has two fill zones with three scales each. Once the charge is in the cone, it is rotated to a tamping section where all size cones are lightly tamped to a proper level. The tamped cones then rotate into position where a FANUC SCARA robot engages each cone and twists the top closed.
In Station 6, two of the six completed pre-rolls are lifted by a second FANUC SCARA robot and positioned onto separate high precision load cells to validate the proper weight of each Pre-Roll. Product out of spec are diverted into a reject bin for rework.  Product within the spec are diverted into a bin ready for final packaging. The last two cells are available for integrating vertical tube loading and blister pack loading. The system operates at 50 completed pre-rolls per minute with one operator.
Fifty (50) completed joints per minute, with one operator
SR-3iA SCARA Robot with R-30iB Compact Plus 1-Phase CE/NRTL Approved Controller and
LR HandlingTool Software
SCARA SR-3iA Full Bottom Cable Exit (with valves)
Servo Driven Rotary Table
Multiple weight settings
Ethernet Communication
Easy-To-Use Operator Interface with 'On-Board' Help Screens
No-Tool Adjustments
Heavy-Duty Frame & Manufactured Parts
Powder Coating Finish
Wash-Down Options
Allen-Bradley Controls Standard
U.L. 508 Listed
Quick-Disconnect Field Devices
Easy-Access Lexan Guarding
OHSA-Approved Safety Design
Stainless Steel Packaging Available
CANNABIS EQUIPMENT AS A SERVICE – EaaS
Would you like to have access to our robotic pre-roll production line without the upfront equipment investment?  MD Packaging and Emerald Automation make it possible!  Equipment as a Service (EaaS) is a pay-per-use model.  We provide our pre-roll line, with no up-front cost. We monitor it remotely, provide predictive maintenance service, to uphold an SLA, and charge you based on the quantity you produce each month!